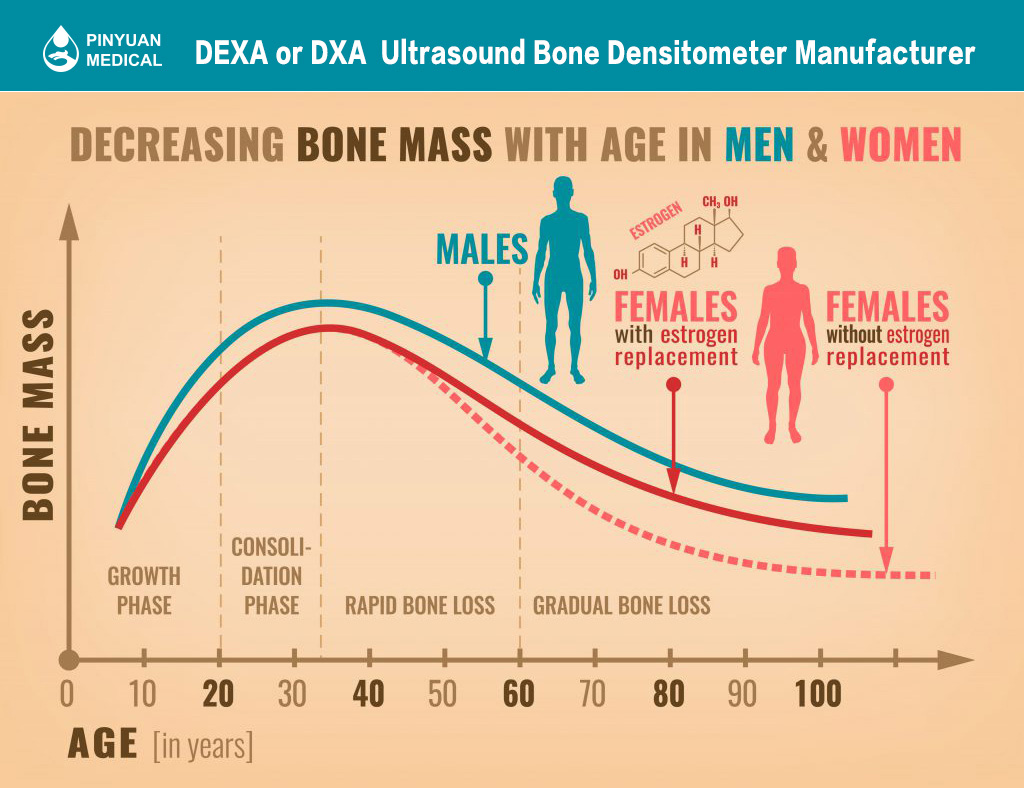 Bone Densitometry is to measure the bone density or bone strength of the People's radius and tibia. It is for Preventing osteoporosis. Bone Mass Starts to lose irreversibly from 35 years old. A bone mineral density test, sometimes just called a bone density test, detects whether you have Osteopenia(Bone Loss) osteoporosis.
There are several types of bone mineral density tests. Ultrasound Bone Densitometer , Dual Energy X Ray absorptiometry Bone Densitometer ( DEXA or DXA ), Testing usually focuses on the bones most likely to break due to osteoporosis — the lower (lumbar) spine and hip (femur), the radius and Tibia .Sometimes a spinal X-ray is performed if a vertebral fracture is suspected.
Who should have a bone mineral density test?
Your doctor may suggest you have a bone mineral density test if you have had a fracture after a trivial injury or if you are suspected to have a vertebral (spinal) fracture . This type of fracture doesn't always cause pain but may reduce your height or cause deformity of your spine (e.g. 'dowager's hump').
In addition, the Royal Australian College of General Practitioners advises that you discuss with your doctor your risk of osteoporosis and whether you should have your bone mineral density investigated if you have (or have had) a major risk factor for osteoporosis, including:
● corticosteroid treatment (by mouth) for more than 3 months or Cushing syndrome;
● absence of menstrual periods for over 6 months before the age of 45 (including premature menopause, but not including pregnancy);
● testosterone deficiency (if you are male);
● long-term liver or kidney disease or rheumatoid arthritis;
● overactive thyroid or parathyroid;
● a condition that stops you absorbing the nutrients from food (such as coeliac disease);
● multiple myeloma; or
● age over 70 years.
The College also advises that women over the age of 50 and men over the age of 60 should discuss their risk of osteoporosis with their doctor if they have other risk factors for low bone density or for fracture such as:
● a family history of fracture after a trivial injury;
● low body weight (body mass index [BMI] less than 19 kg/m²);
● a history of smoking or high alcohol intake (more than 2-4 standard drinks per day for men, less for women);
● inadequate calcium (less than 500-850 mg/day) or vitamin D (e.g. limited exposure to sun);
● recurrent falls; or
● physical inactivity over a long period.